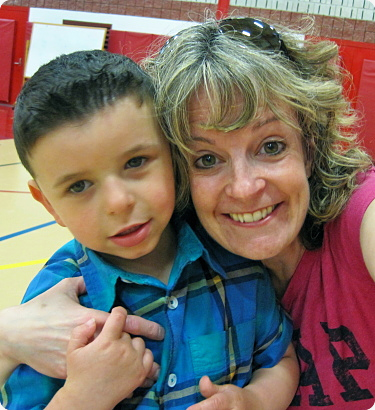 ECEC was started in 1973 by a group of parents whose young handicapped children were not appropriate for the few programs which were in existence at the time. These parents learned a lot together, found great support in each other, and were able to collaborate with Eleanor Roosevelt Developmental Services (ERDS) to find much needed services for their children. These families were real "doers;" together with Sue Kimberly, a special education teacher from ERDS, and some of Sue's associates, the parents applied for, wrote, and received approval for a Federal Bureau for the Education of the Handicapped (BEH) First-Chance three-year grant. Thus, ECEC's first classroom came into existence in September 1975.
The parents did not just sit back after they received the grant. A director and program staff were hired to implement the grant, but the parents remained very active: they brought their children to school every day (there was no transportation); they were intimately involved in their children's programming – working daily with their own child as well as other children in the program; they served on the Board; they did the fundraising; they rewrote the grant each year until it ended in 1978; etc. When ECEC became an independent private school in 1978, the tradition of strong parent involvement continued. As the new charter and the By-Laws have never been amended, and, to this day, parents remain an integral part of the Board's functioning.
We have had to face a lot of hurdles: funding, fluctuating enrollment numbers, appropriate programming options, space, staff shortages, etc. and the parents have been with us all the way. They have written letters, given testimony, attended legislative sessions, testified in court, raised funds, and have accomplished countless other tasks in support of this agency. Parents may not be able to be in the classrooms full time anymore or even many times not be able to come to school on a regular basis, but they are still there for us and we still have a tremendous responsibility to them. They have entrusted the care and education of their children to us: an awesome responsibility. Parents now have the luxury to literally "shop" around for services for their young children with special needs; this Capital District area is "program-rich." When parents choose ECEC, many times it is a difficult decision to make. We need to be vigilant in our task to enable parents and children to feel comfortable with what we do at ECEC and to facilitate parents' belief that they made the right decision.
Interested in joining ECEC? Click here for open positions.